SoftMoc Gift Cards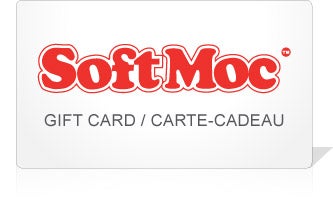 Give them what they really want.
Fast, Safe & Convenient
No hidden charges or fees
Delivered via courier or email (within 24 hours)
Good for use online
Available in amounts $25 to $500
SoftMoc Gift Cards
Gift Cards will not be replaced or refunded if lost or stolen. SoftMoc Inc. is not responsible for lost Gift Cards.
Gift Cards will not be returnable or exchangeable for cash, except in provinces where required by law.
Coupons and other discounts may not be used to purchase Gift Cards.
A Gift Card cannot be used to purchase Gift Cards.
Purchase amounts that exceed the value of the tendered Gift Card will require a credit card for the balance due.
If you are using a Email Gift Card instore, please print and bring in the "as sent" version of the Gift Card you received via email.
How to Obtain Your Balance
To obtain your balance on a SoftMoc Gift Card, please click here or call customer service.
Expiration / Service Fees
SoftMoc.com Gift Cards do not expire and we do not apply any service fees for non-use.