110% Price Protection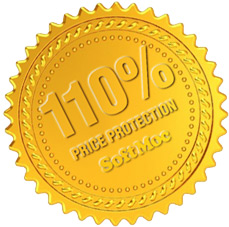 We feel that we offer the best selection of shoes on the internet and offer the most competitive prices.
Softmoc.com 110% price match is based on the difference between the competitors order total compared to the SoftMoc order total plus an additional 10%.
The item must be available for purchase in the same style, colour, and size on both SoftMoc and the competitors websites.
The web site cannot be an auction or clearance/closeout site, and must be based in Canada.
Does not apply to "first time" customer promotions, any special promotions offered by the competitor and or free shipping promotions.
Does not apply to competitors' buy one get one free OR buy one get one 50% off promotions*.
Taxes and shipping charges will be included when calculating the price difference.
TO RECEIVE YOUR 110% PRICE GUARANTEE:
Place an order on softmoc.com, then E-mail customer service (shoes@softmoc.com).
Please provide: Your SoftMoc ticket (order) number.
Provide an exact link to the item on the competitors site where you located the lower price.
Once we have verified the information, a manual credit matching the competitor total plus an additional 10% will be applied to the original method of payment.
ONLINE ONLY PRICE ADJUSTMENTS:
SoftMoc will offer a one-time price adjustment if an item is marked down within 30 days of original purchase date, providing the items previously purchased are still available online in the specific colour and sizes purchased.
Price match requests made after 30 days will not be processed.
*PLEASE NOTE: Certain restrictions apply. We will not price match time restricted promotions, Winter Clearance, Door Crashers, Boxing Week, Black Friday, Cyber Monday and other Special promotions.